Guide to Volunteering with Seniors and Elderly in Your Local Community
If you are considering volunteering with seniors, we have some helpful tips to get you started. We have broken down some of the best ways to volunteer your time with the elderly. Having a heart for our older community members is a special gift, and the time you spend volunteering with them will benefit you as much as them. Often, volunteers develop meaningful and cherished relationships with those they volunteer with, and the rich life experiences they can share are priceless. 
How to Volunteer with the Elderly
Seniors can face many challenges, from physical limitations to changes in their cognitive function as they age. There are various opportunities to assist the elder members of your community in navigating these challenges.
We will cover a few of the most common ways to volunteer with seniors and some less common opportunities to volunteer with seniors. We will also cover how to get started and prepare as well as what to expect from your volunteer work.
Volunteering with seniors can be a rewarding experience if you are prepared and aware of what may be asked of you. Some volunteer organizations may require background checks; for others, an application and interview may be necessary.
Getting Started Volunteering with Seniors
First, you will want to take a look at different options and decide what fits your interests and talents to make the best use of your time and talents. You should also take some time to determine how much time you are willing or able to volunteer each week or month.
Be honest with yourself about what type of time commitment you are willing and able to make. There is nothing wrong with volunteering for only a few hours a month or every day if that suits you best.
It is helpful to be realistic when it comes to your time so that you can make a meaningful commitment and be relied upon. It is better to volunteer a short amount of time than not at all, and it's better to be honest about how much time you can commit than to overcommit and not be able to fulfill your role with an organization. 
So, once you know roughly how much you can volunteer and the frequency, you can see which opportunities fit within that framework. Think about your specific talents and interests to help lead you to a meaningful and enriching volunteer experience that is right for you. Whether you are an artist or musician, accountant or animal lover, there will be a volunteering opportunity that fits your interests and is a worthy cause to spend your time. 
Organizations
Many non-profits operate nationwide and have a wealth of resources for anyone looking to volunteer. If you need help finding a local volunteer opportunity, the following organizations are a great place to begin your search.
AARP
AARP offers many assistance programs for seniors in need, from meals and housing to transportation and health. They have local volunteer opportunities nationwide for anyone that is looking to get involved.
Find local volunteer opportunities near you by visiting Community Volunteer Opportunities with AARP Foundation
Volunteers of America (VOA)
Volunteers of America operates senior care centers throughout the US and provides many programs that offer affordable care for seniors including: meal programs, education, housing, transportation, and activities. Volunteers are always needed to assist with the variety of programs they offer nationwide.
Meals on Wheels
Meals on Wheels is a national organization that delivers low-cost meals to seniors at their homes. Volunteers can commit to as much time as their schedule allows, whether that be several times per week or only once per month.
Americorps Seniors Volunteers Program
Americorps is an organization that works with senior volunteers aged 55 and up. Through their Seniors volunteer program, senior volunteers give back to their community giving them a sense of purpose which leads to a longer and healthier life. A brief overview of their programs are listed below:
Foster Grandparent
Seniors work with infants, kids, children, and teens and serve as positive role models.
Seniors RSVP
Seniors volunteer in their community for anywhere from a few hours to 40 hours weekly.
Senior Companion
Seniors volunteer with other older adults and provide friendship and companionship which also helps relieve some of the duties of family caregivers.
For more information on their programs visit AmeriCorps Seniors
Ways to Volunteer with Senior Citizens
Socializing and Mental Health – Prevent Depression in Seniors
Time spent socializing could be one of the most helpful ways to volunteer with our seniors. Loneliness and isolation are extremely common problems for the elderly due to family or spouse loss, loss of mobility, and/or distance from extended family.
Many senior centers or senior housing have companionship programs that you can volunteer through. You may be required to submit a background check for the safety of the seniors. You can also check with your religious organization, as many offer programs for visiting seniors in the community on a regular basis. Holidays such as Christmas and Thanksgiving and special days like Mother's Day or Valentine's Day are great times to plan visits.
Spending a little time with the elderly can be a cure for their loneliness and isolation. It can also be enlightening for the volunteer; hearing stories about a lifetime of unique experiences is invaluable.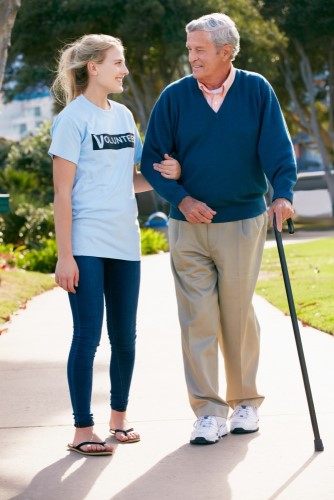 Another meaningful way of combatting isolation is taking seniors out for excursions or assisting them with errands. Many seniors have mobility issues or cannot drive themselves any longer. They may need assistance while grocery shopping or being taken to a medical appointment.
It can be overwhelming being alone, and having a companion along when they get out of the house can be immensely helpful. Having someone to escort them out for a meal or for a walk can do wonders for their mood and overall health.
Deliver Meals or Groceries
As mentioned above, many seniors live alone, and mobility issues may inhibit their ability to grocery shop or cook for themselves. If you know of a senior in your neighborhood, consider reaching out to offer help with dropping off a meal or taking care of their grocery shopping for the week.
Meals on Wheels
If you can commit regularly, you should also look into the Meals on Wheels program. If you decide to volunteer with this program, you will be given a route to provide meals and safety checks for those living alone. The seniors on your route will learn to look forward to your regular visits and you can really do a lot of good.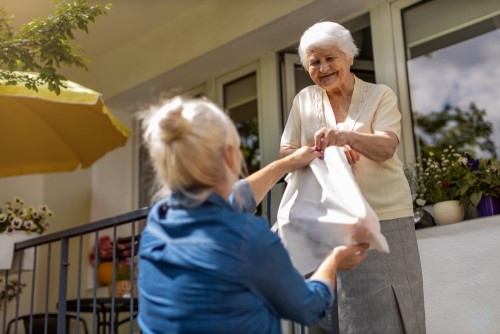 You are taking care of a vital need, of course, which is ensuring they have food to eat and other necessities, but you are also a bright light in their week and can provide some much-needed socialization and interaction in their day. The short time you spend chatting with them while making deliveries can be as meaningful or more than the groceries or meals you drop off. 
Meals on Wheels can work around nearly anyone's schedule and has flexible shifts available. So, whether you can volunteer once a week, or once a month, you can help seniors in need. There will be a central location for you to pick up meals and a route you will follow for meal drop offs in your area.
After you're done, you simply drop off the packaging items and head on your way. You can spend one lunch break a week making a big impact on the seniors in your area or wherever you work. There are also many locations that have other mealtime routes in need of volunteers also.
https://www.mealsonwheelsamerica.org/
Transportation
Many seniors can no longer get around on their own safely. This adds to their isolation and can even be dangerous. Public transportation can be daunting or even unavailable in many areas. We take for granted our full freedom of motion and, for seniors, the limitations can cause all sorts of problems.
Consider offering to bring a senior in your community along to the grocery store with you, or offer to get them to any necessary appointments. Reaching out in your own neighborhood or community is best, but you can also look to organizations if you are more comfortable with that.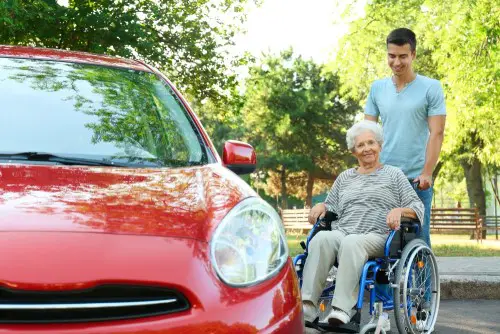 There may also be volunteer driver programs for seniors in your area. You can check with some senior communities local to you. Assisted living homes usually offer shuttle services to their seniors, but you can also check with these communities about escorting seniors for shopping and other errands. Seniors will often go without items they need or even miss appointments if they lack transportation. 
Even if they do still drive, they may not want to drive in inclement weather, so be sure to check in on them during those times. Driving in rain or in the dark can be difficult for many seniors, so offering a ride can make a world of difference to them.
Elder Helpers
Elder Helpers is a great site to check if you are interested in this type of volunteering. They will complete a background check and match you up with a senior in need of transportation or other needs. 
Americorps
Another option is through AmeriCorps and their Senior Companions program. It is for people aged 55 and up, and will facilitate older adults by helping aging seniors in need with tasks such as transportation to events, appointments, and running errands. These simple acts can help seniors maintain their independence and stay in their own homes with just a little help now and then.
Volunteering in Assisted Living Centers
Many assisted living centers and senior communities offer enrichment for their residents through daily programs that keep them engaged and stimulated. Consider lending your talents to volunteer through one of these programs.
Painting or Art Lessons
If you are an artist, you can teach a small class of aspiring or life-long artists who may want to rediscover their own artistic passions.
Food and Meal Prep Information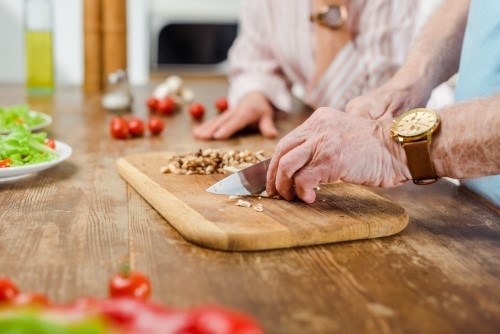 If you are a health nut, offer a nutrition class with easy nutritious recipes. Often, seniors struggle to adjust their diets due to new health concerns or issues and also to cook for just one or two after decades of cooking for a whole family. Giving them useful information and skills to cook and better nurture their bodies will help them maintain more independence for longer.
Healthy Activities – Walk Outside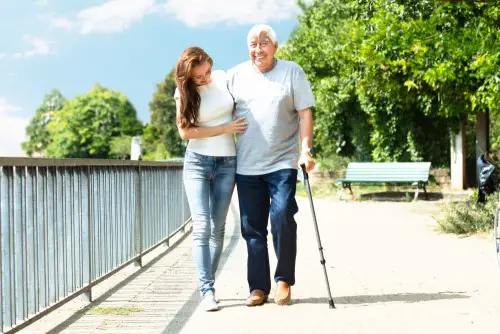 An athlete or avid walker can maybe start a walking club. Keeping active and fit will maintain a higher quality of life for our seniors and can do a world of good, including physical and mental health.
Music
If you are a musician or singer, you can come and play a small concert for their entertainment. If you are crafty, you can come run a small craft project class.
If You Lack Experience Then Give Your Time
If you feel you don't have a relatable talent or skill to offer, you could also volunteer to visit seniors. It doesn't take much work to lend a listening ear, and it can do a world of good to combat loneliness and isolation.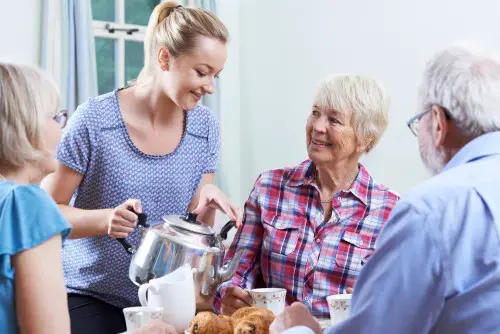 Check with your local assisted living centers and senior centers to see what programs they may be lacking. You can offer a monthly or weekly class or experience to brighten up the senior community. You may even be able to form a small group to make visits accessible to several members of the senior community.
There will most likely be an application and/or a background check and a brief volunteer orientation to ensure that volunteers know the rules of that community and maintain safety for both the volunteers and the seniors. 
Canine Companions For Independence – Dogs
Many seniors would benefit from an emotional support animal or therapy dog, especially if they live alone and/or have a physical impairment. Canine Companions is an organization that matches canine pets with those in need. They are also a great place to start if you are interested in helping facilitate that for seniors.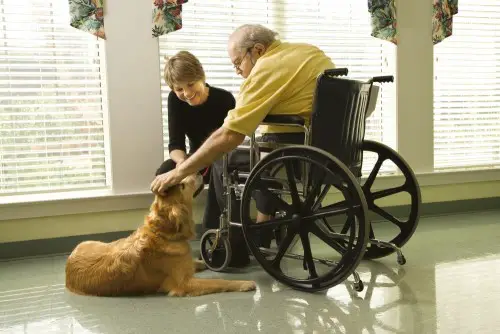 There are different ways you can volunteer, such as being a "puppy raiser" or a "breeder caretaker". There are also local chapters you can check into for ways to help at Canine Companions. A lot of effort goes into raising and training dogs for their role as companions and helpers. If you are an animal lover and have the room and experience in raising puppies, you can be a big help in that process. 
 https://canine.org/get-involved/ways-to-volunteer/
What to Expect: Volunteering with Seniors
If you haven't volunteered with seniors before, you may be wondering what to expect. 
Well, if you are volunteering through an organization such as Senior Corps or at an assisted living facility, there will probably be a short orientation to prepare you for your experience. They will cover what is required on your behalf and also what you should expect and how to prepare for your first volunteering experience. Communicate questions or concerns that come up with the appropriate volunteer leader. 
If you are doing it on your own, you should know that the overall experience of volunteering with seniors is positive. Most seniors are very grateful for the socialization and interaction with volunteers. Be gracious and kind, show patience and understanding, and you will have a great experience. Some of the elderly people you will interact with may have physical limitations that are new to them. This can be frustrating and upsetting. Remember to be patient and calm when helping out. 
Some may be hard of hearing or have visual impairments. Be sure to ask ahead of time and accommodate for these issues. If you are aware they are hearing impaired, you should make an effort to speak clearly and face them when you are speaking to assist them in understanding your communication.
Overall, you may be surprised to realize that the time spent together will be mutually beneficial. You may end up forming quite a bond with the seniors you visit frequently, be prepared for their life to impact yours in a big and meaningful way. Volunteering is good for the soul. 
Where Can You Inquire About Opportunities to Volunteer
If you are unsure of how to start, check online and contact a local organization to see where your skills, knowledge, and experience might be of use. Try reaching out to any of the following in your city or town:
Nursing homes
Retirement communities
Senior centers
Assisted living center
FAQs – Frequently Asked Questions For Volunteers
Why Volunteer with Senior Citizens?
Volunteering with seniors can be quite a rewarding experience. Not only can you play a vital role and make a big difference in the lives of those you help, but you will often gain beautiful friendships and connections with them.
People often have a misconception about seniors. Many seniors are simply lacking interaction and stimulation. They are often eager to learn new things, tell captivating stories from the past, want to laugh, and form relationships along with all of us. Giving them an opportunity to share experiences with you will benefit you both.
What activities can you do with a lonely senior?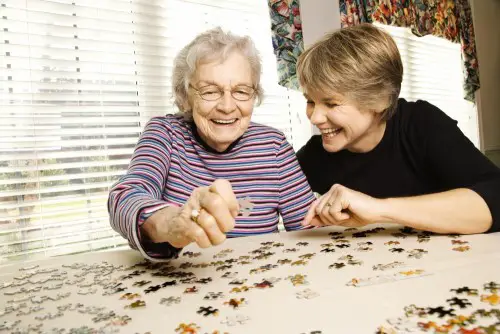 There are quite literally dozens of ideas for activities to engage with a senior you are visiting. Take into consideration any possible physical or cognitive limitations they may have and then consider their interests as well. We'll list several ideas broken down into categories below.
Arts and Crafts such as: knitting, painting, clay, simple crafts, quilting, photography, needlework, and flower arranging.
Games: cards, chess, bingo, bridge, puzzles, crosswords, and various board games.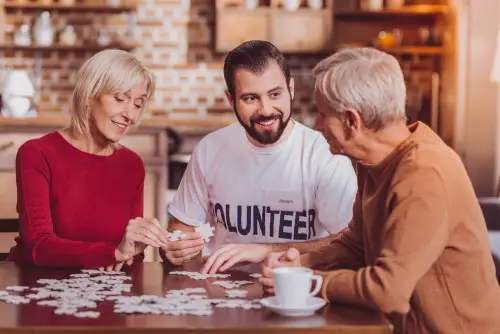 Clubs: gardening, book clubs, bird watching, or improv
There are many other activities or outings that can work well with visiting and volunteering with seniors. Offer a few ideas when you interact and see which idea may be of interest to them.
Is there somewhere to volunteer to clean elderly or disabled people?
Basic housecleaning can become difficult for senior citizens as they age. Volunteering to clean and tidy their homes can have a huge impact on maintaining their independence and keeping them in their own homes.
Organizations such as Elder Helpers can assist you with volunteering to clean for the elderly or disabled. AARP.org is another organization that has programs set up to help seniors who need a little extra help maintaining their homes and keeping them in order.